Integrating sustainability and good governance: ReNature investigates the life-cycle of wetlands management
ReNature-funded study investigating the challenges in the life-cycle of wetlands management to integrate sustainability and good governance is now available in the Journal of Environmental Engineering and Landscape Management.
The assessment of management effectiveness during the whole life-cycle process of Protected Areas (PAs) has recently become an increasing issue, according to the study. Wetlands are known to be covering approximately 6% of the planet's landmass and do sustain an enormous bundle of ecosystems. In relation to this, the team of researchers leading this very study have focused on conducting a trans-dimensional assessment of management effectiveness, developing a framework mix of strategic recommendations leading to the implementation of an effective planning process. As such, a practical guide through a gradation model of integrated protected area management (IPAM) is created.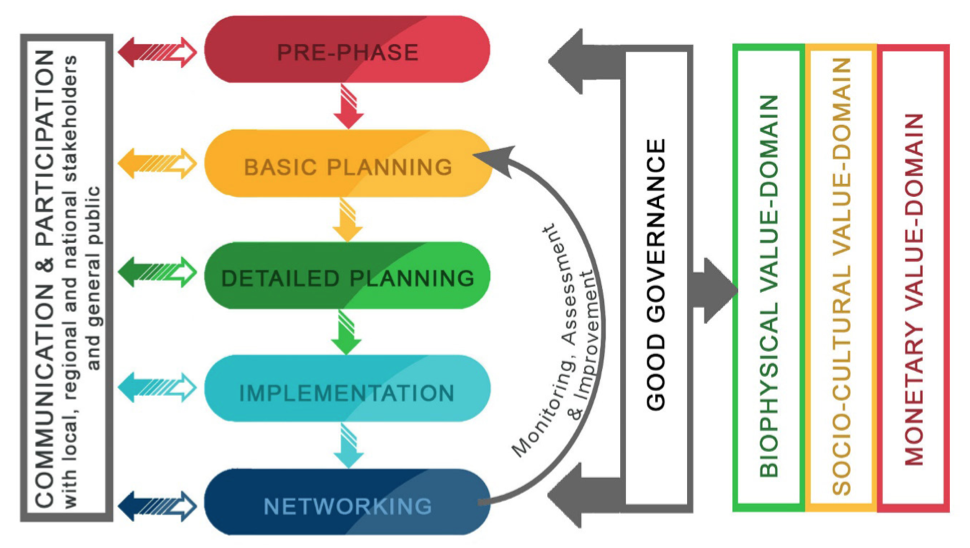 Gradation model of integrated protected area management and diagnostic of IPAM framework. The conceptual framework focusses on the interactive processes between social, cultural, ecological and economic subsystems.
The research area of the study is focused in the Maltese Islands Il-Ballut ta' Marsaxlokk (Il-Ballut) Nature Reserve, and L-Inħawi tal-Għadira (Għadira) Nature Reserve. These locations have been chosen due to the fact that the Maltese environment allows for an extensive research work, and further investigation of the impact of development technology and solutions for sustainability. By utilising the methodology of integrative protected area management (IPAM toolbox), the life-cycle within the three islands has been evaluated.
The outcomes of the research show that implementing IPAM in the management of PAs can be beneficial, especially in identifying specific fields of activity that need to be revised. Using this model can further provide detailed insight into the evaluation of PAs, with respect to governance and sustainability.
Read the full paper here.