ReNature successfully participated at The Nature of Cities Festival
After successfully applying for a spot at the The Nature of Cities (TNOC) Festival, ReNature is happy to report back from the exciting virtual festival. The project participated with a ReNature-dedicated seed session on "How to increase the use of effective nature-based solutions in urban planning?" The presentation was given by ReNature's coordinator Mario Balzan, with the strong support from the project partners Davide Geneletti, Marcus Collier and Miriam Grace. The session was attended by over thirty participants from all around the world.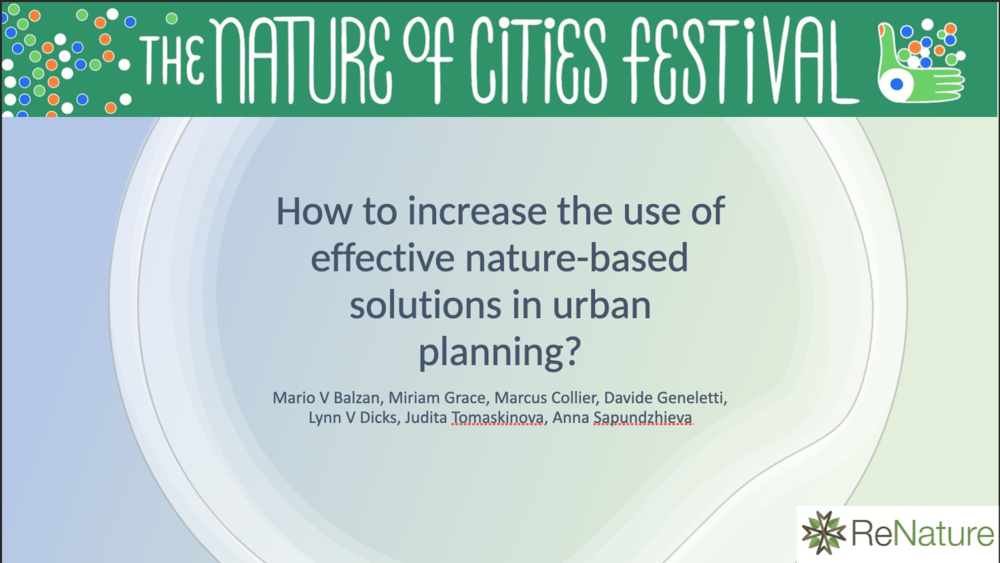 ReNature experts introduced the attendees to insightful topics such as the strategic planning and approaches of nature-based solutions, their benefits to the society and economy, as well as the effective implementation of NbS into urban ecosystem services. The potential ways to increase the adoption and actual use of nature-based solutions in urban plans have also been a matter of discussion. Other key points that were touched upon during the session were the cultural aspects of acceptance on NbS, their resilience in terms of climate change, sustainability and sufficiency. Along these lines, it has also been considered whether and how nature-based solutions can affect issues such as air pollution.
The presentation was followed by a productive discussion where together with all the participants, ReNature's experts looked into the various future updates and challenges of implementing nature-based solutions into urban planning. Among the many topics that were raised, the lack of monitoring data, which limits the opportunities for studying the baselines of biodiversity, has been elaborated on. What was further established was the need for priority clusters for measuring the benefits of NbS.
You can find the full presentation here.